Professor and Head
Dr. Than Than Htay
---
Vision
-To come out innovative and outstanding students to improve the field of Mechanical Engineering
Mission
-Through the effective teaching-learning methods students are encouraged to learn more advanced technologies.
-To emerge talented and creative engineers in their professions.
Quality Objective
-To increase the pass rate to more than 75% and to reduce the percentage of undergraduates' drop-out to less than 5% for every Academic year.
Graduate Attributes (GA)
The Engineering Department has established the following learning outcomes in order to successfully achieve and satisfy our program objectives. These outcomes are subordinate to the program objectives and represent the skills and attributes our students should GAs at the time of graduation. At the end of six years programme, the graduates will be able to:
Acquire and apply fundamental knowledge of Mathematics, Science, basic electrical and electronic engineering and Mechanical engineering focus in solving complex engineering problems.
Apply first principles of Mathematics, Natural Science and engineering to identify, formulate and evaluate complex Mechanical engineering problems based on systematic approach and to reach sustainable conclusions.
Design solutions for complex and design systems to meet desired needs with realistic constraints for economical, environmental, societal, public health and safety.
Investigate and study complex engineering problems using literature survey, results of engineering experiments in workshops and laboratories as well as to analyse and interpret data information from research.
Create and apply modern engineering technique, instrumentation, ICT based tools for prediction, modelling and solving complex engineering problem with an understanding of the limitation resources.
Practice and apply reasoning informed by consideration in societal, health, safety, legal, cultural issues and the consequent responsibilities relevant to professional engineering practice.
Evaluate the impact of professional engineering technology solutions in a societal, environmental constraints and global context.
Apply ethical principles and commit to professional ethics and responsibilities and norms of an engineer.
Display capability to work competently in the context of a diverse team within multidisciplinary environment, as an individual member with teamwork fortitude or as an inspiring leader with effective management skills.
Communicate an engineering community and society to present effective report and design documentation with clear instructions.
Demonstrate engineering management principle in their own /team work and management facilities in project as a leader.
Recognize the need to take on independent life-long learning and continuous self-improvement in the context of technological change.
Program Educational Objectives (PEO) 
To address the full range of technological and societal problems with creativity, investigation, confidence and responsibility to their chosen professional areas as mechanical engineering.
 To grace effective collaborators and leadership roles in their careers and to manage projects in environmental context, and also skills in the design development and application of mechanical systems in diverse industries with the highest professional and ethical standards.
To retain the intellectual curiosity that motivates lifelong learning and continuous improvement of their knowledge related to technical fields, professional ethics and public health and safety allowing for a flexible response to the rapidly evolving challenges of the 21st century.
Contribution of the GAs to the PEOs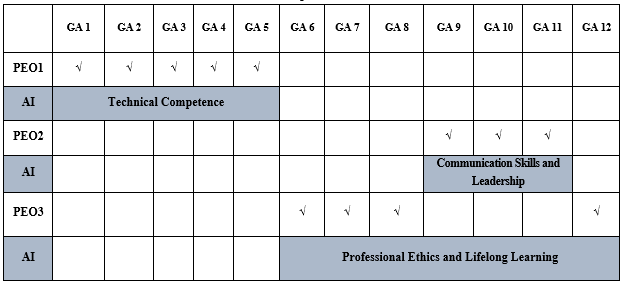 ** AI = Achievement Indicator
First Year

First Year Curriculum
Year I, Semester I

Code
Title
Credits
L
T
P
M
11011
Myanmar I
2
2
0
0
E
11011
English I
2.5
2
1
0
EM
11011
Engineering Mathematics I
4.5
4
1
0
E.Ch
11011
Engineering Chemistry I
4.5
3
1
2
E.Ph
11011
Engineering Physics I
3.5
2
1
2
ME
11011
Basic Engineering Drawing I
2
1
0
2
ME
11012
Workshop Practice
1
0
0
2

Year II, Semester II

Code
Title
Credits
L
T
P
M
12011
Myanmar II
2
2
0
0
E
12011
English II
2.5
2
1
0
EM
12011
Engineering Mathematics II
4.5
4
1
0
E.Ch
12011
Engineering Chemistry II
4.5
3
1
2
E.Ph
12011
Engineering Physics II
3.5
2
1
2
ME
12011
Basic Engineering Drawing I
2
1
0
2
ME
12012
Workshop Practice
1
0
0
2

Second Year

Second Year Curriculum
Year II, Semester I

Code
Title
Credits
L
T
P
E
21011
English
2.5
2
1
0
EM
21013
Engineering Mathematics I
4.5
4
1
0
ME
21011
Machine Drawing II
2
1
0
2
ME
21012
Workshop Technology
2
1
0
2
ME
21015
Engineering Mechanics
2.5
2
1
0
ME
21013
Engineering Thermodynamics I
2.5
2
0
1
EP
21013
Applied Electrical Engineering
2.5
2
0
1

Year II, Semester II

Code
Title
Credits
L
T
P
E
22011
English
2.5
2
1
0
EM
22013
Engineering Mathematics II
4.5
4
1
0
ME
22011
Machine Drawing II
2
1
0
2
ME
22012
Workshop Technology
2
1
0
2
ME
22015
Engineering Mechanics
2.5
2
1
0
ME
22013
Engineering Thermodynamics I
2.5
2
0
1
EP
22013
Applied Electrical Engineering
2.5
2
0
1

Third Year

Year III, Semester I

Code
Title
Credits
L
T
P
E
31011
English
2.5
2
1
0
EM
31015
Engineering Mathematics I
4.5
4
1
0
ME
31013
Engineering Thermodynamics II
2.5
2
0
1
ME
31014
Strength of Materials I
2.5
2
0
1
ME
31015
Theory of Machines I
2.5
2
0
1
Met
31071
Engineering Materials
2.5
2
0
1
ME
31022
Production Technology
2.5
2
0
1
EcE
31014
Basic Electronic Engineering
2.5
2
0
1

Year III, Semester II

Code
Title
Credits
L
T
P
E
32011
English
2.5
2
1
0
EM
32015
Engineering Mathematics II
4.5
4
1
0
ME
32013
Engineering Thermodynamics II
2.5
2
0
1
ME
32014
Strength of Materials I
2.5
2
0
1
ME
32015
Theory of Machines I
2.5
2
0
1
Met
32071
Engineering Materials
2.5
2
0
1
ME
32022
Production Technology
2.5
2
0
1
EcE
32014
Basic Electronic Engineering
2.5
2
0
1

Fourth Year

Fourth Year Curriculum
Year IV, Semester I

Code
Title
Credits
L
T
P
E
41011
English
2.5
2
1
0
EM
41016
Engineering Mathematics I
4.5
4
1
0
ME
41032
Manufacturing System and Automations
2.5
2
0
1
ME
41031
Design of Machine Elements
2.5
2
1
0
ME
41033
Heat Transfer
2.5
2
0
1
ME
41014
Strength of Materials II
2.5
2
0
1
ME
41016
Fluid Mechanics I
2.5
2
0
1
ME
41015
Theory of Machines II
2.5
2
0
1

Year IV, Semester II

Code
Title
Credits
L
T
P
E
42011
English
2.5
2
1
0
EM
42016
Engineering Mathematics II
4.5
4
1
0
ME
42042
Manufacturing System and Automations
2.5
2
0
1
ME
42031
Design of Machine Elements
2.5
2
1
0
ME
42033
Heat Transfer
2.5
2
0
1
ME
42014
Strength of Materials II
2.5
2
0
1
ME
42016
Fluid Mechanics I
2.5
2
0
1
ME
42015
Theory of Machines II
2.5
2
0
1

Fifth Year

Year V, Semester I

Code
Title
Credits
L
T
P
ME
51043
Gas Turbine Theory
2.5
2
0
1
ME
51015
Vibration and Control
2.5
2
0
1
ME
51017
Refrigeration and Air-condition
2.5
2
0
1
ME
51028
Industrial  Engineering and Management
2.5
2
1
0
ME
51023
Internal Combustion Engines
2.5
2
0
1
ME
51016
Fluid Mechanics II
2.5
2
0
1
ME
51031
Machine Design and Project
1.5
0
0
3

Year V, Semester II

Code
Title
Credits
L
T
P
ME
52043
Gas Turbine Theory
2.5
2
0
1
ME
52015
Vibration and Control
2.5
2
0
1
ME
52017
Refrigeration and Air-condition
2.5
2
0
1
ME
52028
Industrial  Engineering and Management
2.5
2
1
0
ME
52023
Internal Combustion Engines
2.5
2
0
1
ME
52016
Fluid Mechanics II
2.5
2
0
1
ME
52031
Machine Design and Project
1.5
0
0
3

Final Year

Final Year Curriculum
Year VI, Semester I

Code
Title
Credits
L
T
P
ME
61020
Renewable Energy
2
0
1
ME
61019
Computer Application in Mechanical Engg
2
0
2
ME
61028
Engineering Management
2
1
0
HSS
61012
Huminities and Social Science
4
0
0
Industrial Training
4

Year VI, Semester II

| | | | |
| --- | --- | --- | --- |
| Sr. No | Code | Courses |  Credit points |
| 1 | ME 62031 | Internship (8 weeks) | (4 credit points) |
| 2 | ME 62032 | Graduation Thesis (Individual) | (8 credit points) |